Special
Just Arrived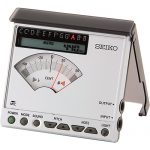 Mode: Auto, manual and sound generating tuning modes.
Tuning Range: A0-C8.
Sound Generation: C4-B4 (12 notes).
Pitch Shift: A=410Hz-450Hz.
Terminal: 6mm input and output jacks.
Additional Functions: Backlight, auto power off, memory backup, power reserve indicatior,  pointer position calibration.
Dimensions: 105.59(w) x 92(h) x 19.3(d)mm, weight: 150gm.
Accessories: 2 x AAA batteries included plus user manual and tuner cover.